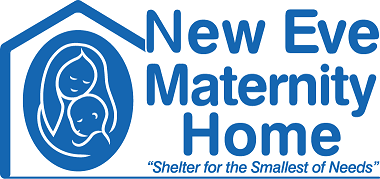 Quote of the Month
"O God, grant that whatever good things I have, I may share generously with those who have not, and whatever good things I do not have, I may request humbly from those who do." 
President's Corner
Dear Friend of New Eve Maternity Home,

Today is GivingTuesday so let me give you some additional reasons to support New Eve!
So far this year New Eve Maternity Home has received 76 requests for shelter from pregnant women. That's a 26% increase over last year!
These requests come from women who are homeless or have no safe haven. Many of the women are at rock bottom with no hope, and many have struggled with drug addiction, been victims of domestic violence, and may be considering abortion as their only alternative.
One of our current residents was living in a car. As sad as these situations are, we know from their pleas that there are more and more women who do not want to take the life of their baby.
So, we know that we have the opportunity to save more babies — and their mothers. But our three bedroom house is full.   New Eve is the only maternity home in the Shenandoah Valley and when a bedroom becomes available, it is quickly re-occupied.
We have decided the most efficient way forward is to buy a bigger house with five or six bedrooms. We have set a goal of raising $100,000 to make this possible. And we ask for your financial gifts and your prayers.
You can make gifts to us in several ways including one-time donations by check or credit card, monthly recurring Heavenly Host donations, and gifts of financial instruments (such as gifts of stock or bonds, real estate, legacies and bequests, life insurance or a percentage of an IRA, 401(k) or other qualified retirement plan).  Details and instructions are on our website.
If you are already making a Heavenly Host gift, please consider increasing it since our monthly expenses will increase with a larger house.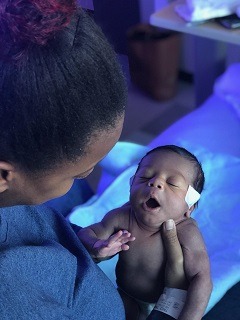 Meet baby #25: Greyson born on Veteran's Day!
(One of at least 25 reasons to support
New Eve on GivingTuesday
We are joyful to again welcome new life into the New Eve home. Our resident Nikki gave birth on Veteran's Day to Greyson. He is our 25th baby! He and his mother are doing just fine in their warm, cozy and loving home at New Eve.
In other happenings at our home:

Michael Murrow, Knights of Columbus Deputy Grand Knight at St. Bridget of Ireland in Berryville, conducted an infant CPR class at New Eve.
Gay Rice of AbbaCare is currently presenting "Worth Waiting For" as our Tuesday evening program.
United Way's Day of Caring again came to New Eve, and volunteers from TWG Insurance-The Winchester Group painted our deck. It looks great.
The Winchester Anglican Church Men's Group is cleaning and repairing the basement storage room at our home.
Bruce Sheppard, owner of Weed Man in Winchester, is donating lawn care for our home.
The Republican Women's Club of Clifton, VA made their annual donations to our home. They delivered a baby changing table, a pack 'n play, and many personal items for our mothers and babies.
New Eve hosted a very successful and fun trivia night with the theme of "Are you smarter than a fifth grader?"
And the mothers and babies are enjoying a safe, loving home at New Eve, and they are thankful for your help in giving it to them.  
We ask again for your prayers and gifts to buy a bigger house so that we — and you — can make it a home for mothers and their babies.  
Thank you and God bless you,
PS – Thanks in advance for supporting New Eve on GivingTuesday or any day this month!
Donate Your Used Vehicle!
Got a vehicle that you no longer want?

Did you know that you can turn that vehicle into a tax deduction for yourself and generate a donation to benefit New Eve?
Call Vehicles for Charity at 1-866-628-2277 or use the online donation form at 
www.vehiclesforcharity.org
 and designate New Eve Maternity Home as the recipient!
Our most recent vehicle donation generated a $700 donation for New Eve!
Need more information?  CLICK HERE!  Spread the word!
"A financial statement is available upon written request from
the Office of Charitable and Regulatory Programs"
Sign up for News & Updates