Every woman in the world was made to be a mother either physically or spiritually.
President's Corner
Dear 
Friend of New Eve Maternity Home
,
We have another birth into the New Eve home!  Alyssa gave birth to Ryleigh on June 15.  She was 5 lbs. 9 oz. and 19.5 inches long.  Mother and baby are doing well.  This is baby number 22 for New Eve.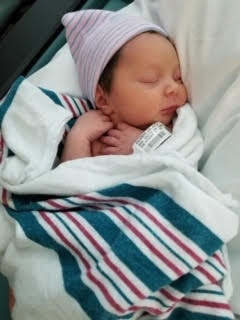 Resident Christina is now employed at Lens Crafters.  A plumbing malfunction caused a flood in her bathroom and in nighttime housemother Ena's bedroom below.  But the mess was quickly cleaned and professionally sanitized, and a new floor installed in the bathroom.  Thanks to Ena and Christina and our staff for their hard work helping with the cleanup.  Christina also painted the walls of the bathroom.
Francis Moyer is now organizing our Tuesday Evening Program babysitters.  Francis also answers our telephone and returns the messages.  As our Director Christina Müller says, she's the "lady behind the phone."
The current Tuesday Evening Program is Nurturing Parenting presented by Rebecca Lewis from the Laurel Center.
Our other volunteers never seem to slow down. Sue Wence of Envision It Organized has volunteered her time and expertise to help organize all donated items and personal products in the home.  And the donated items continue to come in.  Stalwart volunteer Jim Gironda has been busy with a lot of projects including replacing the front door lock and outside electrical outlets.  The Riccardo Stocco family again spruced up the landscaping and planted flowers, and Matthew and Paul Steele have kept the lawn mowed.
We have concluded another very successful Knights of Columbus Baby Bottle Campaign at Sacred Heart of Jesus Catholic Church in Winchester.  Thank you brother Knights and all who filled those bottles.
If your church would like to join our baby bottle program, please let us know.  So many children especially enjoy filling their bottles – and asking their parents to do likewise!
Thank you to all our volunteers and donors.  New Eve could not exist without you.  Over the years pregnant women in need of shelter have been referred to us by the AbbaCare pregnancy center, Front Royal Pregnancy Center, the Winchester Drug Court, and Laurel Center which provides services to survivors of sexual and domestic violence.
Thank you friend of New Eve for providing that shelter.
God bless you,
Cabell Angle
President
New Eve Maternity Home
Donate Your Used Vehicle!
Got a vehicle that you no longer want?

Did you know that you can turn that vehicle into a tax deduction for yourself and generate a donation to benefit New Eve?
Call Vehicles for Charity at 1-866-628-2277 or use the online donation form at 
www.vehiclesforcharity.org
 and designate New Eve Maternity Home as the recipient!
Our most recent vehicle donation generated a $700 donation for New Eve!
Need more information?  CLICK HERE!  Spread the word!
"A financial statement is available upon written request from
the Office of Charitable and Regulatory Programs"
Sign up for News & Updates