The Negro cannot win if he is willing to sacrifice the future of his children for immediate personal comfort and safety.  Injustice anywhere is a threat to justice everywhere.
Thanks to your generosity and your prayers, New Eve purchased a second home for moms and babies!
As you know we have been looking for a second house. Our Director Christina is also a realtor, and she and I have been looking – and praying, along with you – for just the right house which needed to be near our existing house. We finally found it. This was it. It had been on the market for about a month. The day after we looked at it we were preparing to make our offer when we saw at the top of the online listing in big red letters: "under contract."  We were crushed.
At the same time while looking at the computer listings we saw a dot on the map of houses for sale that we had not seen before. This house was much better for us than anything we had seen before. Why had we not seen it? Then in big red letters on the listing we saw: "added four hours ago." And that's how we found what we have been calling the Second Eve Home – another ancient title for Mary. So on the same day we lost the one house, a much better one became available.
Prayer works. But you know that. So thank you for your prayers – and your gifts. You made it possible.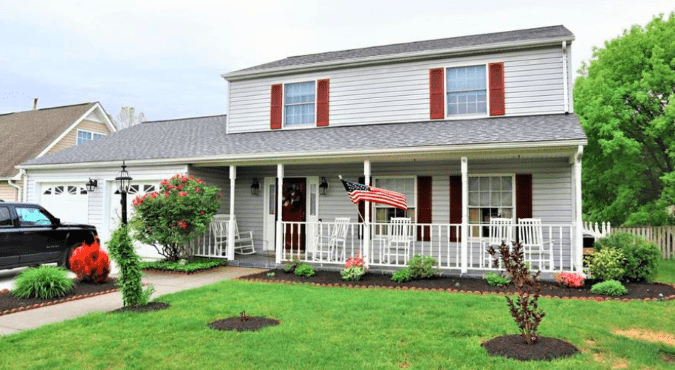 Thanks to your generosity, we purchased
a second home for moms and babies!
We received over 90 requests for shelter last year. It has been painful to turn women and children away. This new house doubles our capacity to six residents. And it has space for our first office – a much needed addition. It's a wonderful house, but it's completely empty.
Usually when you move into a new house you bring your stuff with you. But we have no "stuff" to bring. So we 
need volunteers to form a Design Team to oversee the preparation of the new house.  This will include creating wish lists for each room, painting, organizing donated items, equipping the kitchen, designing and decorating bedrooms and living spaces, providing furniture and 
decorations. We hope to have the house ready for residents by the beginning of August.
Like to organize and coordinate?

Enjoy decorating and furnishing rooms to create a warm and cozy home?

Have a heart for mothers and babies in need?
All the while, there have been lots of great things going on at the New Eve home.  We have just moved a new resident into New Eve, and our home is full.  Her name is Melissa.  She is due at the end of July and has a six-year-old daughter Angelina who is with her most of the time.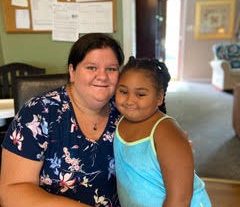 As of July 1st, all of New Eve's programs will be up and running again.  We have Pam Haefner, a social worker, doing a program the first Tuesday of every month and Jordan Chenette, a therapist, doing a group therapy session every third Tuesday of the month.  We are working on getting the grocery program started again and that should also be going by the second Saturday of July.  AbbaCare is coming the other Tuesdays in July and August for the Tuesday night program.  Joseph Jubloski from United Way's UNITE US is helping us find a volunteer to come and teach personal finance.
We have had a crew of young volunteers from SASH (Summer at Sacred Heart) donating their time at New Eve.  They have done an incredible job on the gardens at the house.  Some of the improvements have been to create a planter around the tree in the front yard, transplant bulbs, put in a vegetable garden, power wash the shed, sand and paint the front porch, remove weeds, mulch, mow and more!   We have been very impressed with their level of work and enthusiasm.  They will be doing some more work at the Second Eve home in July.
We continue to seek volunteers for housemom and babysitting positions in preparation for the opening of the Second Eve Home.
There are challenges as we move into a new phase at New Eve. But together we can do it. You have been so generous with your time, talent, and treasure and especially your prayers. We need you now more than ever.
I pray you and your families remain healthy and happy as we look forward to better times.
Thank you and God bless you,
God bless you,
Cabell Angle
President
New Eve Maternity Home

Need a new roof?
Want to support New Eve Maternity home? 
If you (or someone you know) needs a new roof, consider SmartRoof.  Regional Sales Consultant Anthony Criste (rising Junior at Christendom College) will come and inspect your home or business free of charge.  If a new roof, siding, gutters and/or windows are replaced due to wind or hail damage, Anthony will donate 5% of his personal sales profit to New Eve Maternity Home.
How it Works:
1.  Receive a free inspection – contact Anthony Criste to get a fast, free, and thorough assessment of wind and hail damage.
2.  Identify storm damage – after finding adequate storm damage, Anthony and his SmartRoof Team will dedicate themselves to getting you a new roof for only the cost of your insurance deductible.
3.  Get A Warrantied Roof – SmartRoof uses the nations oldest and largest manufacturer of asphalt shingles and will schedule your install date and deliver a warrantied roof with professional installation and care.
4.  Support New Eve – Anthony will donate 5% of his profit to support the good work of New Eve Maternity Home

For the best roofing experience you'll ever have, call (or text):
Anthony Criste
540-683-6710
"A financial statement is available upon written request from
the Office of Charitable and Regulatory Programs"
Sign up for News & Updates
[caldera_form id="CF5a2805c194b6c"]<!-- [et_pb_line_break_holder] --><!-- [et_pb_line_break_holder] --><style><!-- [et_pb_line_break_holder] -->.caldera-grid .form-control, .caldera-grid output {<!-- [et_pb_line_break_holder] --> font-size: 1rem;<!-- [et_pb_line_break_holder] --> height: auto!important;<!-- [et_pb_line_break_holder] --> padding: 1rem!Important;<!-- [et_pb_line_break_holder] --> border-radius: 30px!important;<!-- [et_pb_line_break_holder] -->}<!-- [et_pb_line_break_holder] --></style>