New Eve Maternity Home
Mourns Loss of Founder
Joanne Seale
Joanne Seale, Founder of New Eve Maternity Home, passed away at her home surrounded by family on Saturday, August 5, 2023 at 5:50pm.
The funeral Mass will be this Friday, August 11, 2023 at Sacred Heart of Jesus Catholic Church (Winchester, VA) at 2:30 pm.
A Rosary will precede the Mass. There will be no viewing or visitation.
Interment will follow immediately at Sacred Heart Cemetery followed by a reception in Muldowney Hall.
Joanne's full obituary can be read HERE.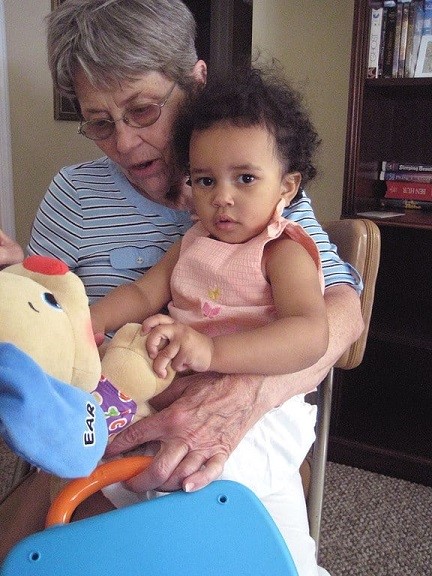 Joanne Seale holding a baby born to a New Eve resident
Thank you in advance for your prayers for the repose of Joanne's soul and for the consolation of the extended Seale family.
*****
Eternal rest grant unto her O LORD. May perpetual light shine upon her. May her soul and the souls of all the faithful departed through the mercy of God rest in peace. Amen.
"We say that every child conceived has a right to be born, and we will not take away that right because he or she is inconvenient, disabled, poor, or unwanted. Every child is wanted by somebody."
– Joanne Seale, Founder, New Eve Maternity Home, Winchester, VA
*****
Joanne Seale has passed away at her home in Winchester in the loving presence of her family. She and her late husband Bob were the founders of New Eve Maternity Home. She and Bob and Mary Martinez nurtured New Eve just as they did the homeless mothers and babies in their care. Because of Joanne's work, New Eve has grown into a haven owning two beautiful residential houses sheltering seven mothers and their children.
Joanne had an unmatched passion, energy, and commitment for her ministry. In her final months she showed us how to face death with dignity, without fear, and, in her words, even some "excitement" about going home to God. She was an inspiration to everyone, especially our homeless mothers, and her memory will continue to inspire and guide us and those mothers. She was a gift from God, and she let God's light shine through her.
I believe God gives us gifts of extraordinary people, and He places them in our lives when we need them most. God placed Joanne next to me on the sidewalk at Life Chain on Sunday, October 2, 2011. Susan and I had just moved to Winchester and knew very few people. Meeting Joanne that day is one of the best things that has ever happened to me. As a bonus I happily reconnected with Bob who had been a banking colleague some 30 years prior. I will always be thankful to God for that day.
In this past week, New Eve has welcomed three new babies into our homes.
Baby Jackson born 7-27-23
Baby Infinity Ann born 8-1-23
Baby Makai born 8-14-23
We have welcomed 45 births since our founding. They are a part of Joanne's legacy. Those babies and mothers owe so much to Joanne. We all owe so much to Joanne. The testimony of our resident mother Kindra speaks eloquently of the fruits of Joanne's work:
"We are so grateful for this program and that God has brought us here. The program is truly amazing and is absolutely a great way to help me build our lives from the ground up. It truly does put a mother on the road to amazing things. I'm grateful, blessed, and appreciate you all so much!"
Joanne's granddaughter asked her, "What is the first thing you want to do when you get to Heaven." Joanne replied, "Hold a baby!"
Eternal rest grant unto her O Lord, and grant your consolation and comfort to her family.
God bless you and thank all of you who are continuing Joanne's ministry.
Cabell
Sign up for News & Updates