Quote of the Month
"The Most Important Person on earth is a mother. She cannot claim the honor of having built Notre Dame Cathedral. She need not. She has built something more magnificent than any cathedral—a dwelling for an immortal soul, the tiny perfection of her baby's body. The angels have not been blessed with such a grace. They cannot share in God's creative miracle to bring new saints to Heaven. Only a human mother can. Mothers are closer to God the Creator than any other creature; God joins forces with mothers in performing this act of creation. What on God's good earth is more glorious than this: to be a mother?" — Joseph Cardinal Mindszenty
President's Corner
Dear Friend of New Eve,
I'm happy to report that our two houses are fully occupied with seven mothers, babies, and assorted toddlers! Our 42nd baby, Benjamin (7lb, 1 oz), was just born, and two more are expected in July. We are also sheltering a mother who recently suffered a miscarriage. And a member of our Board of Directors and his wife have taken one of our mothers and her little boy into their own home.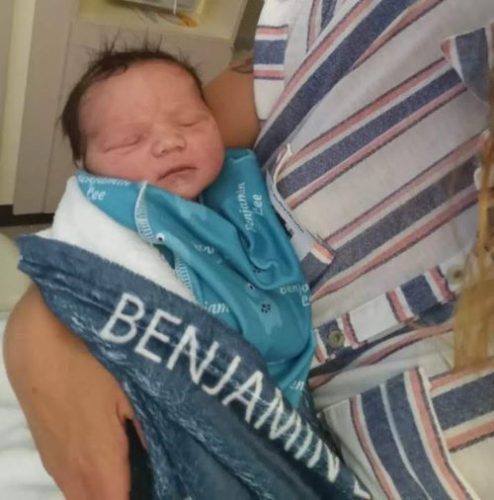 Please say hello to Benjamin—the 42nd baby born to a New Eve Mother!
God bless our untiring Director Christina Muller, her assistant Dianne Barkey, and our housemothers and volunteers for all they do. (Actually, they do get pretty tired, but they know they're doing God's work, and that sustains them.) And God bless you for all you do for our mothers and children. You are doing God's work, also.
One of our mothers was so inspired by her experience at New Eve that she said she wanted "to know God better." She accepted Christ and was received into the Catholic Church at Easter. Praise the Lord! You are saving babies, mothers and souls.
Our Tuesday evening programs are coordinated by the energetic Phyllis Miller. A recent program was child CPR presented by Michael Murrow of the Berryville Knights of Columbus. These programs give our mothers information on a wide range of topics such as nutrition and financial management.
We are also trying to provide a personal mentor for each of our mothers to give them more support. Could you be a mentor?
Babysitting is always a need, and Frances Moyer organizes that. Would you like to be a babysitter? It's great exercise!
Sharon Watkins presents a wonderful spiritual counseling program the first Saturday of each month. Our mothers all need some spiritual encouragement.
We are very grateful to Tail Life at Sacred Heart Church for providing mowing and landscaping and keeping our homes beautiful. Our mothers and children also help with yard maintenance and take pride in the appearance of our homes.
We are always making improvements and repairs to our homes and there is always a need for volunteers to help. Some of the bigger projects are the need to improve and expand our storage areas, replacing some doors, and replacing and painting some exterior woodwork.
Thanks to all of you who made our Lenten Appeal a big success. We met and exceeded our matching gift challenge. (Maybe for our Year End Appeal you might consider being part of a group of matching gift challenge donors. Need more info? Contact me HERE!)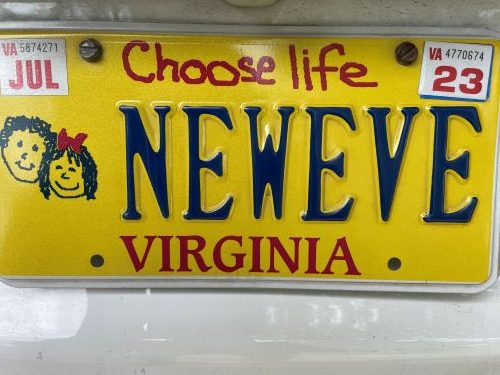 Each year New Eve receives funds from the Virginia "Choose Life" license plate fund. This license plate was begun by Father James Gould and the Knights of Columbus at St. Raymond of Penafort Catholic Church in Springfield, VA and shepherded through the Virginia Senate by one vote by then State Senator Ken Cuccinelli. Please consider putting them on your car and being a witness for LIFE. (Learn more HERE and HERE.)
And is it time to replace that car? Our car donation program helps convert your extra vehicles into cash donations! (See article below for more information!)
So it's busy and happy and exciting at New Eve—as always. Thank you for your prayers, your time, and your gifts that make it all possible.
Please know that our mothers know that you are out there, and that you love them. Being Pro Life is loving and caring for the baby AND the mother.
Recently one of you wrote to us: "New Eve is supplying for
these women and children what some of them possibly never had
in their lives: safety, education, support— dare I say LOVE!"
God bless you,
Cabell Angle
President
New Eve Maternity Home
Did you know that New Eve Maternity Home has a vehicle donation program?
You can donate cars, trucks, motorcycles, RV's, boats and more!
Vehicles can be driveable or not. No worries!
So far more than 11 vehicles have been donated generating more than $5,230 in cash donations for New Eve!
It's easy! Just call 1-866-628-CARS (1-866-628-2277) or visit our New Eve vehicle donation page.
A friendly customer service representative will quickly guide you through the process and your vehicle will be hauled away in a matter of days.
Clean up your driveway or yard today and turn that vehicle into a cash donation to help moms and babies!
"A financial statement is available upon written request from
the Office of Charitable and Regulatory Programs"
Sign up for News & Updates